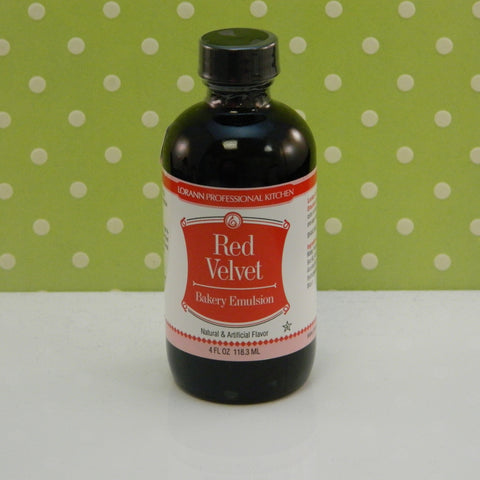 Red Velvet Baking Emulsion
 Red Velvet Flavor Baking Emulsion - Better than an Extract! Water-based instead of alcohol-based so the flavor won't bake-out!
Natural and Artificial Flavor
Add the rich taste and color of classic red velvet cake in one easy step!
LorAnn's Red Velvet Bakery Emulsion is perfectly blended to give your favorite red velvet recipe an irresistible flavor and lush red color.
• Water-based
• Kosher certified
• Gluten-free
• Water soluble
Directions:
To color and flavor your favorite red velvet recipe: For each 8 or 9-inch cake or 12 cupcakes, mix 1 tablespoon LorAnn Red Velvet Flavor to prepared batter and blend well (no additional coloring needed). Bake according to recipe directions.
Quick Red Velvet Cake & Cupcake Recipe:
Add 2 tablespoons LorAnn Red Velvet Bakery Emulsion to the prepared batter of a standard boxed cake mix and blend thoroughly. Bake according to package directions. 
For Classic Red Velvet Cake, use a devil's food or chocolate cake mix. Also works well in white cake mixes. Frost with cream cheese frosting.
---
We Also Recommend
---